This event has passed
The Message of the Uluru Statement – A Special Event
$0.00
The Message and Journey of the Uluru Statement towards Voice, Treaty and Truth – a presentation by Thomas Mayor
Since the Uluru Statement from the Heart was formed in 2017, Thomas Mayor has travelled around the country to promote its vision of a better future for Indigenous Australians.  He's visited communities big and small, often with the Uluru Statement canvas rolled up in a tube under his arm.  Through the story of his own journey and interviews with many key people, Thomas taps into a deep sense of our shared humanity.
The Uluru Statement from the Heart is a profound call from Aboriginal and Torres Strait Islanders peoples for constitutional change and structural reform in their relationship with Australia – a relationship based on fairness, truth, justice and self-determination where Indigenous cultures can flourish, and the Australian nation can reach a fuller potential.  It is an invitation from First Nations to all Australians "to walk with us in a movement of the Australian people for a better future".
What will we learn?
Thomas needs the support of the wider Australian public. The momentum that is built through such a process has the potential to ensure that the voices of  Aboriginal and Torres Strait Islander peoples and communities are heard and their guidance and expertise is followed by governments in regard to Indigenous affairs.
Please join us to hear Thomas' story and to learn about the Uluru Statement campaign. This will only happen if the wider Australian community shows active support for a First Nation Voice – we can help to make a difference! 
Engagement with this campaign will also show wider support for the Black Lives Matter movement.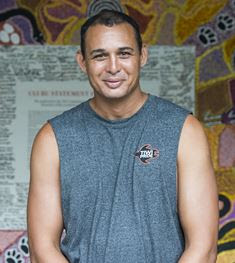 Thomas Mayor
Author & Advocate for the Uluru Statement from the Heart
Thomas Mayor is a Torres Strait Islander man born on Larrakia country in Darwin. As a union official for the Maritime Union of Australia in his early thirties, Thomas found his voice on the wharves. Thomas has tirelessly advocated for the proposals in the Uluru Statement from the Heart since being a part of its development and endorsement. He has written about his journey in his first book, Finding the Heart of the Nation – the journey of the Uluru Statement towards Voice, Treaty and Truth. A children's version of the book, Finding Our Heart,  was published in June 2020.
4 in stock
Status
This event has passed
50 Has Sold